I was busy writing in November and didn't do much reading. Or rather, what reading I did in November was either newspapers, magazines, or a very few books that I've already reviewed.
So we enter December and I'm at a deficit of books, which is a very rare occurrence.
I did finish this one on my Kindle that I'd been reading off and on for several months.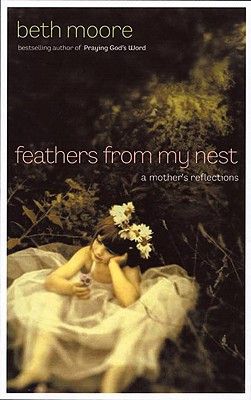 Feathers From my Nest by Beth Moore.
I've done many of Beth's Bible studies and I love them. She brings a depth and richness to her studies and commentaries that is rare and special. I've been to a couple of her live events and several simulcasts. I'm not a "groupie," but I do esteem and respect Beth.
Feathers From My Nest is a special and rare glimpse of the Moore family off the church platform.
Beth is transparent about her two different lives: Wife & Mother vs. Bible Teacher. The two intersect but Beth works hard at keeping them separate.
I understand where she's coming from. Who wants a platform speaker, a paragon of perfect hair and spiritual insights as a mother? No one, especially not a teenager.
Feathers From My Nest is a collection of essays of Beth's thoughts about raising two daughters in this day and age. She shares many of the struggles, a few of the triumphs, and gives all of the glory to God alone.
The book is billed as a "collection of poems and vignettes." Perhaps because I read an ebook and not a hard copy book, I didn't see many poems and the pictures were small and grainy.
If you have a recently empty nest, or are soon to reign over an empty nest, I recommend buying a hard copy of this book. I think it would be one to keep on the nightstand and turn to often for comfort and encouragement.